Welcome to Masters of Scale
The Masters of Scale Courses app offers curated courses, each centered on a 10-minute Daily Practice, to help you build and cultivate your entrepreneurial mindset.
Listen in the App
Transcript
DAN HARRIS:
Hey hey. Welcome to Day 1 of The Marathon Mindset, a six-day course designed for leaders in intense jobs who find themselves running not just a marathon, but, as Reid likes to say, a marathon of sprints. My name is Dan Harris. I worked at ABC News for more than two decades, where I covered wars in Afghanistan and Iraq and the Middle East, natural disasters such as Hurricane Katrina and the earthquake in Haiti, and at one point even spent 48 hours in solitary confinement for a story on criminal justice. However, having said all that, a lot of people know me simply as "the guy who had a panic attack on Good Morning America."

That actually happened — on live TV. I was reading the news, filling in for Robin Roberts, which was a huge opportunity for me, and I choked. I could see the words scrolling on the teleprompter in front of me, but I could not get those words out of my mouth. It was humiliating. And humbling.

The panic attack was a genuine wake-up. I was doing exactly what I'd always wanted to do. Living and breathing the news. But clearly, I was missing something. And that something was that I was not taking care of myself.

So I went looking for answers. You know, how do I continue to be a high achieving person while also having peace of mind, some balance? I am, as we've established, a journalist, which means I'm a pretty skeptical guy, and skepticism is the lens I bring to everything I do through the world of 10% Happier. On my podcast, I talk to scientists, meditation teachers, and even the odd celebrity about a whole range of techniques for issues including anxiety and productivity. So over the course of the next 7 days with you, I'm going to draw upon my own personal experience, and the hundreds and hundreds of interviews I've done on my podcast to help you figure out how to run a marathon of sprints without burning out.

To be clear, I'm not going to try to convince you NOT to run that marathon. When you're passionate about your work, it can chew up a whole lot of your bandwidth, and I don't think that's a bad thing at all, as long as you don't let it consume all of you.

And so the first mindset I'm going to suggest that you adopt is this: Have your own back. That's where we're going to start today. Some people in the psychology community call this concept "self-compassion." I know that to some of you terms like "self-compassion" might sound a little bit cheesy — that's certainly how it sounded to me for quite awhile — but there is real science behind this concept. And it is a skill, self-compassion is, and like any skill it can be learned.

And so to learn more about having your own back, I wanted to talk to Chris Germer. He's a clinical psychologist at Harvard Medical School who has co-developed a program called Mindful Self-Compassion, which has been taught to more than 100,000 people all over the world. And all of this came out of his own public-speaking flameout. We'll start the interview as Chris tells me that story.

CHRIS GERMER:
I really had debilitating public-speaking anxiety. It was so bad once that when I was giving a talk to clinicians about mindfulness, I couldn't even speak. So someone in the back of the room yells out, "Take a breath!" Because nothing came out of my mouth when I went up to the podium, you know?

HARRIS:
That's Chris Germer, describing a moment of stage fright that would be horrifying for anybody. But here's the kicker:

GERMER:
I was actually considered and considered myself an expert in anxiety disorders. And I had tried everything under the sun, including, you know, beta blockers, and nothing worked.

HARRIS:
So Chris checked himself into a meditation retreat where he learned to cultivate a new inner voice.

GERMER:
Say kind words to yourself, like, may I be safe, may I be peaceful, may I be healthy, like that. So I did it. And immediately I started to feel better. All the self-absorption and the rumination and the futurizing and catastrophizing, it just kind of slipped away. So when I got home from the retreat, whenever I thought about this, you know, horrifying conference, I would just be kind to myself. And I did this in the months coming up to the conference. And then when I got up to speak and the usual terror arose with me, there was a new voice in the back of my head.

HARRIS:
Per Chris, he had actually conquered his fear. In just four months! Which may seem a little bit unlikely. So it's important to keep in mind that he did this not by pushing the fear away or denying how he felt, but instead by owning it. It's the complete opposite of what many of us are told to do.

GERMER:
A person who has a lot of ambition, you may have gotten there by pushing through and in fact by denying how you feel. I'm not saying this is you.

HARRIS:
Oh, it's definitely me.

GERMER:
So there is a kind of a deeply entrenched habit of: I have to just keep going. That's how I succeed. There's a lot of training which has basically told us to stop, to open to how we're feeling and to respond with some kind of kindness. It's going to make us weak. It's going to make us fail.

HARRIS:
But scientific research shows that it's just the opposite. The kindness of self-compassion — of having your own back — can actually improve your performance.

GERMER:
The research is really quite clear that when people are self-compassionate, they live closer to their core values. When people are self-compassionate, they usually have more energy to pursue their goals. Interestingly, their goals are just as high as people who are not self-compassionate, but there's more energy and effort, frankly, to achieve them.

HARRIS:
This is great news. You don't just have permission to be nicer to yourself, you have an obligation to do it. But, however, knowing this is one thing. Putting it into practice is another.


HARRIS:
How do I actually do this? How do I make self-compassion a habit?

GERMER:
So the first thing is to understand that for a lot of us, it's a little bit like redirecting a big ship. In other words, we are a large accumulation of habits. And so the main problem is people think, oh, you know, I'm going to give myself six weeks or six months to be self-compassionate. So patience is really important.

HARRIS:
But how do you even get started? Chris suggests starting with one simple question.

GERMER:
What do you need? So just asking that question of ourselves is a profound self-compassionate act. That's a bold, you know, turn of the wheel on the big ship, you might say, to start putting in a new direction. What do I need?

But usually when we ask this question, we don't even know the answer. Like, "need," what do you mean "What do I need?" I don't know what I need. So then it helps to kind of be a little more specific. So to think of different kinds of needs. What do I need to comfort myself? What do I need to soothe myself? What do I need to validate myself? What do I need to protect myself? What do I need to provide for myself? What do I need to motivate myself? So that's the first question. What do I need?

The second question, Dan, is: when we're in a tough spot and we want to be
self-compassionate, to simply ask the question, how would I treat a really good friend right now?

So these are two, you might say, questions, which start the journey to being more self-compassionate, and these questions can be asked over and over again. You can ask yourself the question, like, "What do I need?" the moment you wake up. You know?

HARRIS:
So I've tried this — for years now — both of these techniques. The first, which is occasionally asking myself throughout the day, what do I need right now? And sometimes, it's to lie down on the floor, or to meditate, or to exercise instead of trying to barrel through the next thing on my to-do list. And the other thing that I've really taught myself to do is to consciously counter-program against my inner critic and to talk to myself in difficult moments the way I would talk to one of my mentees or to my child. Of course, change does not happen overnight and I'm still working on this. Because it's very easy for me, still, to revert to my old drill sergeant-like mindset. To double-click on the notion of patience, it's been very slow and it's required a lot of self-compassion to keep going, because every time I notice I'm not doing it, I need to bring some self-compassion to bear.

GERMER:
Thank you for that. It is hugely important, what you just said, to be self-compassionate with ourselves on the path to self-compassion.

HARRIS:
Chris's insights on the notion of having your own back are deceptively simple, but can be devilishly difficult to practice, especially when you're in the midst of running that marathon of sprints.

So I want you to keep in mind the upside here. When you practice self-compassion it makes you better at living in alignment with your core values, which is a fancy way of saying: being focused on the things that actually matter to you. It also helps you have more energy to pursue your goals. And/but, while you're working to change your mindset and to learn how to have self-compassion and have your own back, you need to be patient, you need to have, as I said early, self-compassion while in the process of booting up a habit of self compassion.

As we come to the end of today's Daily Practice, I'm gonna throw it back to Reid Hoffman, host of Masters of Scale and your guide throughout all of the courses. He will share your Action Item for today.

REID HOFFMAN:
As Dan mentioned, I have an Action Item to share with you. Each day in the course, I'll offer a concrete action item you can try to help you cultivate that marathon mindset. The Action Items are important because you don't think your way into a new way of acting. You act your way into a new way of thinking.

Today's Action Item is called: What do I need?

I want you to recall an intense period of time, one of those "rise and grind" moments when you were working all day and into the evening, all week long. Or maybe you weren't hustling, but you were struggling to overcome obstacles and move forward. Ask yourself, "What are my needs in that situation?"

Now take out a piece of paper — yes, an actual piece of paper. Because the act of physically writing things down can reinforce learning. At the top of the page, write "What do I need?" Underneath, write down these five questions: What do I need to comfort myself? What do I need to validate myself? What do I need to protect myself? What do I need to provide for myself? What do I need to motivate myself?

Now answer these questions one-by-one. This is a practice you can return to, at moments when you're stuck or stressed and need to have your own back.

Watch for an email with a summary of today's Daily Practice, and the action you can take to deepen your learnings. You can also find these right here in the app. The email acts as a reminder, and a way for you to carry these ideas with you throughout your day.

Tomorrow Dan talks to Modupe Akinola of Columbia Business School, who will help us manage one of the biggest drags on our stamina: stress. That's tomorrow, on Day 2 of The Marathon Mindset.
Masters of Scale App
The Masters of Scale Courses app offers curated courses, each centered on a 10-minute Daily Practice, to help you build and cultivate your entrepreneurial mindset.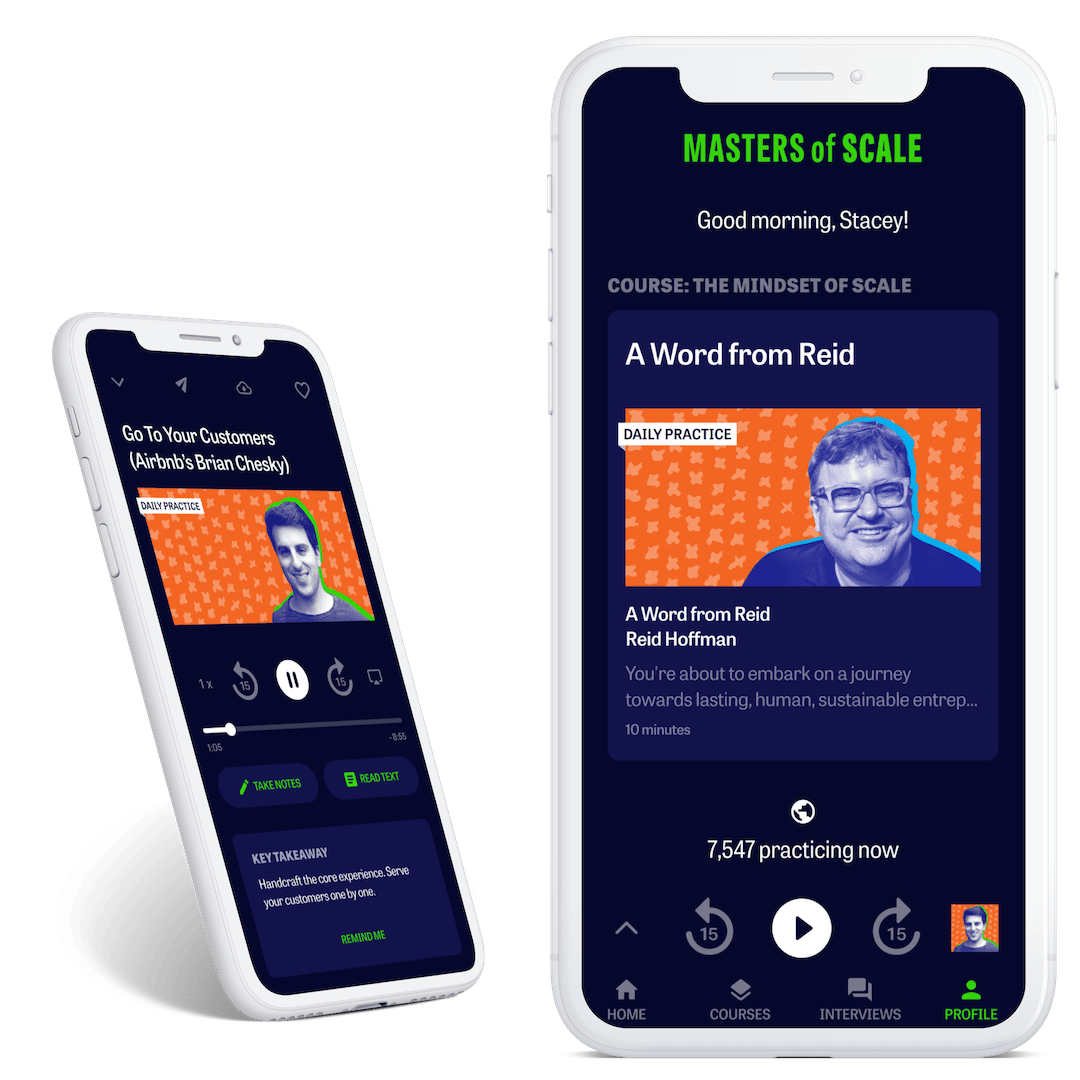 Get the App